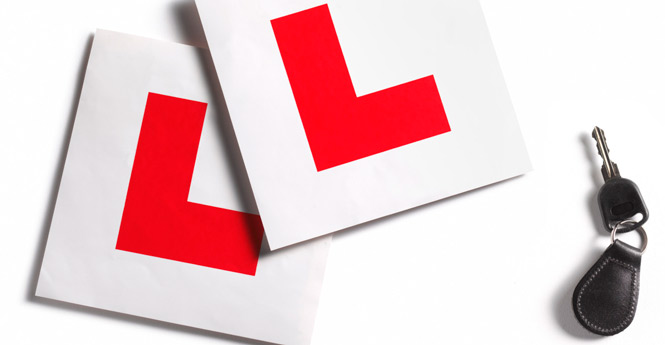 A Theory Test
A Practical Test of your driving ability
A Practical Test of your ability to instruct
You must take and pass all three tests within two years of passing the Theory test.
The Theory Examination  (Part 1)
The Part 1 test can be taken at any theory test centre in Great Britain.
The test calls for a high standard of knowledge. It is a single test of 100 questions to be completed in one and a half hours. For every question a choice of four answers is given. Only one of these answers is correct. The questions are based on all or any of the following:-
principles of road safety generally and their application in particular circumstances;
techniques of driving a car correctly, courteously and safely including control of the vehicle, road procedure, recognising hazards and taking proper action, dealing properly with pedestrians and other road users, the use of safety equipment;
the theory and practice of learning, teaching and assessment;
tuition required to instruct a pupil in driving a car, including the items set out above, the correction of pupils' errors, the manner of the instructor, the relationship between the instructor and pupil, and simple vehicle adaptations for disabled drivers;
"The Highway Code"
the booklet "The Official Driving Test"
interpretation of the reasons for failure given in form DL25A the "Statement of Failure" to pass the driving test
knowledge of the mechanism and design of a car;
the official DSA book "Driving – the Essential Skills"
The overall pass mark for the Part 1 is 85%. However you must reach a minimum mark of 80% in each of the four areas the test is split into. In addition, candidates are required to score at least 57 out of 75 at the hazard perception test. Both parts of the exam must be passed together to pass the Part 1 test. The result of the test will be given at the end of the test.
You can have as many attempts at this part of the exam as you need to pass.
Once Part 1 has been passed you can immediately start the second part of your qualification "the practical test of your driving ability" (Part 2).
The Test of Driving Ability (Part 2)
There are 5 parts to the test:
an eyesight check
'show me, tell me' vehicle safety questions
general driving ability
manoeuvres
independent driving
The test takes around one hour. You'll have to read a number plate from a distance of:
26.5 metres for vehicles with a new-style number plate
27.5 metres for vehicles with an old-style number plate
New-style number plates start with 2 letters followed by 2 numbers, such as AB51 ABC.
You'll fail the test if you don't pass the eyesight test. It will count as one of the 3 attempts you're allowed at the ADI part 2 test.
You'll be asked 5 vehicle safety questions known as the 'show me, tell me' questions. These test that you know how to carry out basic safety tasks.
You'll be asked:
3 'tell me' questions at the start of your test, before you start driving
2 'show me' questions while you're driving – for example, showing how to wash the windscreen using the car controls and wipers
You'll get a driving fault for each incorrect answer you give.
You'll get a serious fault if you answer all 5 questions incorrectly, or if you lose control of the car while answering any of the 'show me' questions.
You'll have to show the examiner all of the following:
expert handling of the controls
use of correct road procedure
anticipation of the actions of other road users and then taking appropriate action
sound judgement of distance, speed and timing
consideration for the convenience and safety of other road users
driving in an environmentally-friendly manner
You'll drive in varying road and traffic conditions, including motorways or dual carriageways where possible.
You might also be asked to carry out an emergency stop. The examiner will ask you to do 2 of the following exercises:
parallel park at the side of the road
reverse into a parking bay and drive out
drive into a parking bay and reverse out
pull up on the right-hand side of the road, reverse for around 2 car lengths, and rejoin the traffic
You'll also have to drive for about 20 minutes by following either:
directions from a sat nav
traffic signs
The examiner will tell you which you have to do. The examiner will provide the sat nav and set it up for you. You can't follow directions from your own sat nav during the test. Your test result won't be affected if you take a wrong turning, unless you make a fault while doing it. The examiner will help you get back on the route if you do.
If you can't see a traffic sign (for example, because it's covered by trees), the examiner will give you directions until you can see the next one.
You can carry on if you make a mistake. It might not affect your test result if it's not serious.
The examiner will only stop your test if they think your driving is a danger to other road users.
You are allowed 3 attempts at this part of the qualifying process
Once Part 2 has been passed you can immediately start the last part of your qualification "the practical test of your ability to instruct" (Part 3).
The Test of your ability to instruct (Part 3)
A Driver and Vehicle Standards Agency examiner will watch you give a client-centred driving lesson lasting about an hour to one of your pupils.
Your pupil can be a learner or a full licence holder. They can't be an ADI or someone else who is preparing to take the ADI part 3 test.
You can take your trainer or mentor with you, but they can't take part in the lesson.
The examiner will look for evidence that you meet the national standard for driver and rider training.
You'll be marked on 17 areas of competence that are grouped into 3 categories:
lesson planning
risk management
teaching and learning strategies
The 17 areas of competence are listed in the ADI part 3 test report form, which the examiner will fill in at the end of your test.
You'll get a score from 0 to 3 for each of the 17 competencies, which are added up to work out if you've passed the test, and what your grade will be.
After you give the lesson, the examiner will discuss your performance and give you your result.
You'll get your grade, along with your completed ADI part 3 test report form.
| Total score | Grade | Description |
| --- | --- | --- |
| 0-30 | Fail | Your performance is unsatisfactory, and you won't join the ADI register |
| 31-42 | Grade B | You'll be allowed to join the ADI register |
| 43-51 | Grade A | You have shown a high standard of instruction and you'll be allowed to join the ADIregister |
You'll automatically fail if:
you get a score of 7 or less in the 'risk management' category
the examiner stops the lesson because you've put yourself or someone else in danger
You can apply for your first ADI badge if you pass the ADI part 3 test. You must apply for this within 12 months of passing the test.
You can take the test again if you fail the first or second attempt. You must book the next attempt within 2 years of passing your ADI part 1 test.
Trainee Licence
If you have passed the driving ability test you can apply for a "trainee licence". If granted, this will allow you to instruct for payment although you are not registered as an Approved Driving Instructor. Many people pass the Part 3 exam without needing a trainee licence; however the experience gained from the licence is often invaluable in gaining the necessary experience to pass the exam, and is the most popular choice.
A licence is only valid for 6 months and apart from very exceptional circumstances you will only be granted one licence.
One of the conditions of the trainee licence is that you receive at least 40 hours practical training from an ADI. You must receive some training in every one of the subjects listed.
This is the training that we provide whether or not you decide to apply for a trainee licence.
If the trainee licence is granted, for the first 3 months that your licence is in force, you must be under the direct personal supervision of an ADI for at least 20% of the time for which you give instruction or receive 20 hours of additional training plus a further 5 hours if Part 3 is failed.
This training is provided with the courses we offer.
Your Next Step
To continue your road to becoming a driving instructor, please contact me to ask any questions you may have, to help you decide on whether or not to pursue a career as an ADI.